REFIT YOGA STUDIO was started in the Year 2011 By Dr.Deepika Tayal. It's a Multi-fitness Studio where you will learn different activities all under one roof.
Hatha Yoga

meditation
Power Yoga

Pregnancy Yoga

Kids Yoga

Pranayama
Sessions for corporates on Posture Correction, Stress Management, and Destressing Sessions. We at REFIT always believe that to achieve Success in anything you should have a Healthy Mindset and a Healthy Body. If you have these both you can achieve anything in life. We believe in a holistic approach toward fitness.
We are living a modern lifestyle today where most things are not in our hands like the food we eat, the water we drink, and the air we breathe, which has adverse effects on our health and leads to disease. But the best solution for all these is yoga. But nowadays many people just blindly start doing it without proper knowledge which in turn adds to miseries. Because how you do it is more important than what you do. And we at REFIT  are on a mission to help people gain knowledge as to what yoga is and how to do it in a proper way. As a doctor, we first stress knowing about our clients in detail about their history, lifestyle, and habits and then design a course for them accordingly. Our mission is that each and every individual should have a brief knowledge about what is good and what's bad for their mind and body.
• Have been teaching yoga for 9 years.
• Trained more than 1000 people in the last 9 years
• Conducted sessions for the employees of companies like Bajaj Allianz, and Gabbar deals.
• Conducted sessions for schools like Indira National school and PICT for more than 100's of students in collaboration with DECATHLON
• Conducted sessions for Meher foundation on account of women's day on collaboration with shoppers stop
• Conducted partner yoga sessions for social groups like round tables association and Agarwal youth club.
Dr. Deepika Tayal –
• Homeopathic Gold Medalist
• Level 2 certified Yoga Trainer from AYUSH MINISTRY
• Mat PILATES trainer.
• Certified Antenatal and Postnatal Trainer (Pregnancy yoga)
• Owner and founder of REFIT YOGA  STUDIO
• Till date has trained around 1000+ people and helped them in achieving their Goals of a healthy lifestyle.
• Conducted various sessions for corporates
Sagar Tayal –
• Ayush certified yoga trainer
• Certified Kids Yoga Trainer
• Motivational Coach and Speaker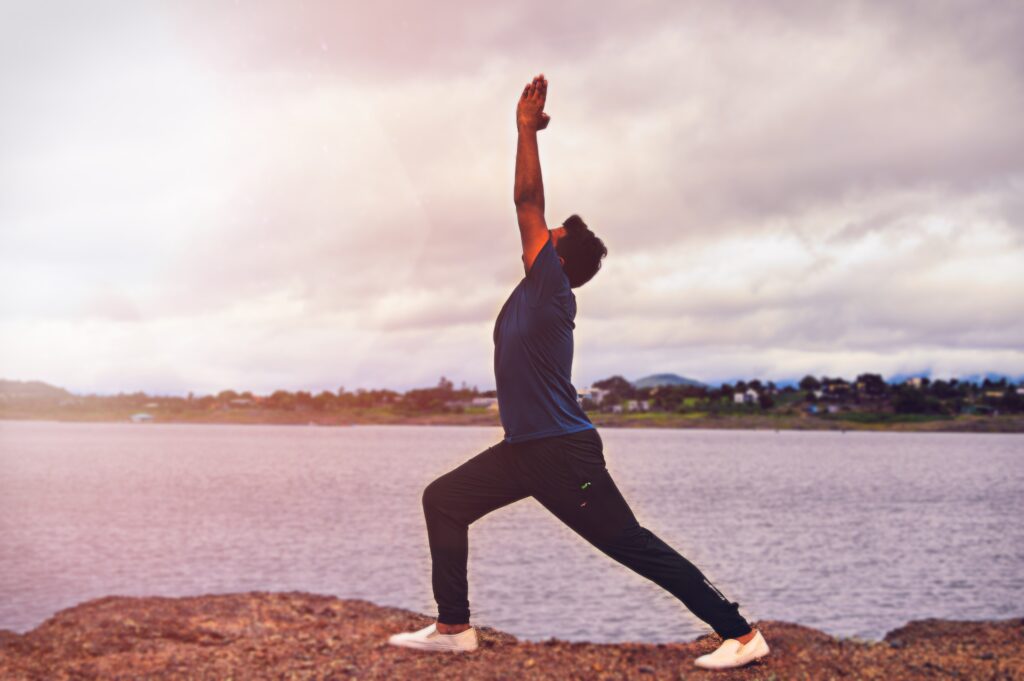 Myself Dr . Deepika Tayal. i am a homeopathic doctor and have been practising yoga
since last 15 years .but my professional journey began in the year 2011 when i set up my
own studio by the name REFIT STUDIO .I am a level 2 yoga certified trainer from AYUSH
ministry and a certified pilates trainer. I am also trained in antenatal and postnatal yoga .
I developed interest in doing yoga from the age of 14 as my parents used to regularly do
yoga . i used to enjoy doing it and feel very good after each session. After my medical
Degree , i did the yoga teachers training course, to have a in depth knowledge of yoga.
During my course i realised that yoga is so deep and not just the asana which i used to
consider … It has so many teachings related to our thoughts , mind, how to LIVE life, how to
stay happy , how to be successful…., etc.
These teachings are important for every human being to know as we are surrounded by so
much stress. So I started teaching yoga as it can help people solve all their problems related
to mind and body and beneficial for them to remain healthy physically , mentally and
emotionally.
In this journey , I motivated my husband as well and now He too is a level 1 yoga trainer and
certified kids yoga trainer from Ayush Ministry.
Today we both are on a mission to make REFIT a global brand where we can inspire people
from all ages to be more healthier and fitter version of themselves. Because at refit we have
a motto,
A FIT YOU , A FIT ME will make a FIT WE
So let's embark on this journey together .